Stylish ways to style a Denim Jacket for Men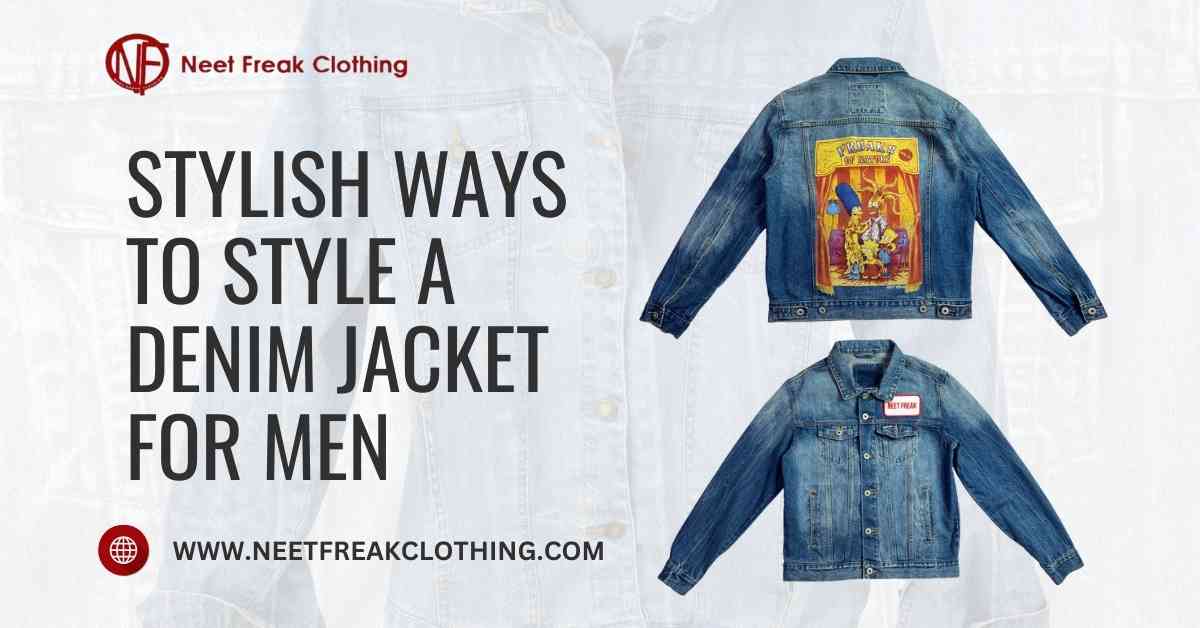 Style a denim jacket for men. Most of you might have heard and read that when  Levi Strauss invented denim jeans in the 1870s, he didn't waste time capitalising on its incredible success by creating the top half of the ensemble with the denim jacket ten years later. As American as biscuits and gravy, the denim jacket became a staple in our nation's fashion, symbolising rebellion and individualism. Imagine a well-fitted blue casual denim jacket with an olive green trucker hat or to give it a more streetwear look, a funky black streetwear hoodie underneath your favourite denim jacket. 
It is not necessary to be a haulier to get a lot of mileage out of a trucker jacket. Or perhaps a cowboy. The jean jacket, like many other workwear staples, has evolved from a beat-up old-reliable menswear item to a go-to for more dress codes than you'd think. But, aside from more denim, what do you wear with a denim jacket? How to style denim jackets for men? That's where this guide to casual denim jacket outfits comes in.
With a collar and a structure that typically tapers to the waist, the denim jacket also creates a more masculine silhouette and adds to the visual appeal that arises from layering in ways that faintly echo a sports jacket, but with an entirely different vibe — casual, rebellious, oppositional-to-the-suits. When worn over a basic t-shirt, it instantly adds a lot more interest to an otherwise uninteresting outfit. 
Given these functional and aesthetic advantages, why are men often hesitant to incorporate what is essentially a simple menswear staple into their wardrobe? 
A denim jacket is a fantastic option to have at your disposal for its versatility, especially at this time of the year. 
HOW TO STYLE A DENIM JACKET FOR MEN
The trick to most styling a denim jacket for men is the fit. As you can see from the list above, most pants in your closet will look great with denim jackets if you wear them correctly. Instead of worrying about what you shouldn't wear with your new denim jacket, consider how you shouldn't wear it. Fit is king in the world of denim. The first step is to ensure that the shoulder seams hit the curve in the shoulders, the sleeves end at the wrist, and the body hits the hips. To ensure this fit, try the jacket on over a T-shirt or thin button-up in warmer climates, such as Florida or Southern California, and over a sweater in colder climates. 
The rest of the outfit should also adhere to the fit guidelines. The tops should also be the right fit, as something fitting too loosely will look bunched up under the jacket, making it look too small. Something too form-fitting will give the impression that you borrowed your father's jacket. The pants are also important for the fit, as baggier bottom fits will give you a bottom-heavy look. Consider the genie in Aladdin, who has massive legs and a tiny chest. No man wants to appear to have a small chest. 
1. Style them with denim jeans for a relaxed look

Don't be afraid to pair denim together. While it's easy to overdo it, it's also the most timeless look. The first rule to remember is that contrast is your friend. Wear a dark wash on the bottom if you're wearing a light wash on top, and vice versa. 
Even if you break the 'distinct shades' rule, double denim can look great: see Martin Sheen in Badlands. It can also be extremely dangerous: imagine Justin Timberlake in your nightmares. However, for a fail-safe way to splice jeans, black and blue are hard to beat.
Other colours of jeans can do the same trick: grey, for one, and even white, although that presents its pitfalls, not to mention impracticalities. But like Wesley Snipes having a cheeky flutter on the Rugby World Cup, always bet on black.
2. WITH A WHITE BASIC T-SHIRT
This is another classic pairing & styling of a denim jacket for men that is enshrined in Americana. A crisp but fuss-free look, it's not quite as easy as you might think.
Its success largely hinges on finding the perfect white tee, which can be a Goldilocks-ian quest: not too slim, not too baggy; not too translucent, not too bulletproof; not too "gunny", not too modest; not too much like a dress, not too much like a crop-top; Not too high on the neck as to be an undershirt-cum-garotte, and not too low as to be a clavicle-exposing deep-U. 
3. WITH A HOODIE UNDERNEATH
Styling a denim jacket with a hoodie or sweatshirt underneath is a safe bet for any menswear blogger attempting to look urban. Don't let that deter you. A hoodie and a denim jacket are natural sparring partners because they're both low-key, throw-on weekend staples. 
In that vein, don't go overboard. Keep the colours neutral and the hoodie fit from being too boxy. Stick to a navy or grey marl under a blue denim jacket instead of the brash logos of streetwear's latest drops. 
4. WITH CASUAL JOGGERS
Styling a denim jacket with joggers isn't a bad idea either. Unless you're a rodeo rider, a denim jacket doesn't exactly qualify as sportswear. However, it adds structure to offset the softness of your joggers, as well as simply not being another piece of jersey, saving you from having to go full tracksuit or 'Tesco tuxedo'. 
This isn't a hard-and-fast rule but cowboy details on your denim jacket are probably best avoided. According to fashion historians, athleisure was not a major trend in the Old West.